This is an archived article and the information in the article may be outdated. Please look at the time stamp on the story to see when it was last updated.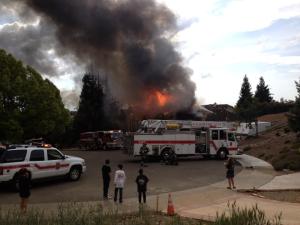 FOLSOM-
The roof of a large home in Folsom collapsed in a fire Monday afternoon.
No one appears to have been hurt in the blaze. A family of six lived in the house on Rockport Circle, four were home when the fire broke out.
Firefighters say they couldn't run in to fight the flames from inside because the roof was beginning to collapse. Live ammunition could also be heard burning off inside one of the rooms in the home.
Fire officials say it's hard to tell whether or not the home is a total loss.
The 6-bedroom home was 3,700 square feet.