This is an archived article and the information in the article may be outdated. Please look at the time stamp on the story to see when it was last updated.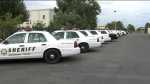 SACRAMENTO-
A man was shot while in his car Thursday evening in Sacramento's Rosemont area.
Sacramento County Sheriff's deputies say the man was likely driving near Westporter Drive and Lilibet Avenue when he was hit with a bullet.
Investigators are interviewing his passenger.
At publishing time, Sheriff's detectives don't have a shooter or vehicle description.