This is an archived article and the information in the article may be outdated. Please look at the time stamp on the story to see when it was last updated.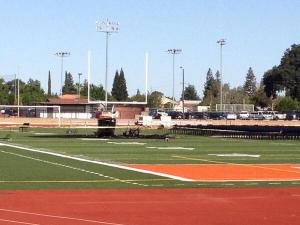 ROSEVILLE-
One day before graduation, Roseville High School's outdoor stage is destroyed by fire.
Around 1:30 Thursday morning, Roseville firefighters were called to the school's stadium for reports of smoke.
They found the stage destroyed and nearby turf damaged by a fire.
FOX40 has learned the stage was brand new, and cost about $20,000. The field itself is relatively new, it was installed last summer.
Officials are investigating and have not said what caused the fire.
Graduation will go on as planned Friday night. School officials say a temporary stage will be brought in, and artificial grass will be laid out over the burned areas of the field.