This is an archived article and the information in the article may be outdated. Please look at the time stamp on the story to see when it was last updated.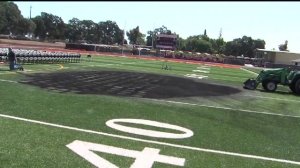 ROSEVILLE –
Roseville Police say two high school seniors set their graduation stage and football field on fire early Thursday morning.
Police say Jordan Loya, 18, was one of the students. FOX40 confirmed with multiple sources the name of the second suspect, 17-year-old Joe Evans.
"It's a very disappointing thing to happen, especially just a few days before graduation," said Emma Carlson, a Roseville High School senior.
Loya and Evans were supposed to graduate Friday night. Instead, Loya sits behind bars with a $150,000 bail. Both face arson charges.
"It was a big talk yesterday, because it was something that wasn't expected," said Cassandra Reyes, another Roseville High School senior.
Hundreds of seniors were without a stage to walk across to accept their diplomas until the community stepped in. Businesses, churches, and former graduates all stepped up and made donations to the school for a new stage.
"Other schools have been willing to give up their stages for us. And we've had so many donations that have come in from people," said Roseville High School Senior Stephen Morin.
"It has brought our class even closer together than we were before," said Carlson.
As for the two students who were arrested, the district said they can't comment. Loya will be arraigned on Monday.