This is an archived article and the information in the article may be outdated. Please look at the time stamp on the story to see when it was last updated.
Update: The Sacramento Fire Department reports their investigators determined that both fires were "deliberately set."
SACRAMENTO — Sacramento fire officials are investigating two fires as arson after separate homes in Midtown went up in flames early Saturday morning. Both homes were under construction and are owned by the same person. Crews responded to the first home on Capitol Avenue around 5 a.m. "First thing you think is… 'we are alive,'" said Roger Lieberman. Lieberman and his wife woke up to flames engulfing the house next to theirs. "5 o'clock, she looked in our window and saw that it was orange, and she just said 'fire,'" Lieberman explained. The three-story Victorian style home was raised with cribbing for renovations at the time of the fire. The fire damaged at least two other neighboring homes, including Lieberman's. "You can see on our house the siding has been burned," he said.
Video captured from the 2 Alarm fire at 5:20AM on the 2200 Block of Capitol Ave. The building was raised with cribbing and under renovation. Houses on the left and right were damaged by the intensity of the fire. No injuries occurred & the incident is under investigation pic.twitter.com/NAUNzkjtRa

— Sacramento Fire (@SacFirePIO) April 6, 2019
Three hours after the first home went up in flames, officials responded to a second fire at another Victorian style home on I street, also raised for renovations. "Well, it's just really devastating and it's devastating in a sense, that we are family in the neighborhood and what happens to one of us happens to all of us," said Rebekah Christensen who lives nearby. Officials believe the owner may have been targeted due to the suspicious nature of the fires.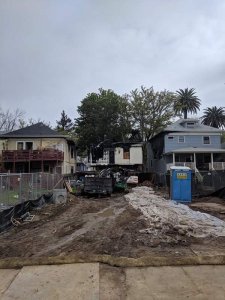 Lieberman told FOX40 one neighbor may have witnessed someone intentionally starting the fire. While neighbors say it could have been worse, they're grateful no one was injured in the blaze. "It was terrifying to see it come from the front of the house, and licking the leaves of the trees," said neighbor Athol Wong. Officials do believe the fires are related but the exact cause is still under investigation.