This is an archived article and the information in the article may be outdated. Please look at the time stamp on the story to see when it was last updated.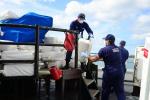 SAN DIEGO-
A Coast Guard C-130, based out of Sacramento, helped catch a smuggling boat that was carrying more than three tons of marijuana Sunday.
The Coast Guard said the boat threw 245 bales of pot overboard after they were spotted by the plane.
The bales were intercepted by a Coast Guard boat of the coast of southern California.