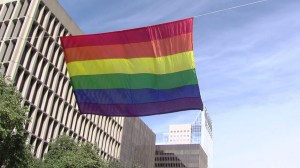 SACRAMENTO-
Thousands of people headed to downtown Sacramento on Saturday to show LGBT pride and celebrate the 30th annual Sacramento Pride Celebration and Festival. The event helps fund programs and services for the Sacramento LGBT Community Center.
The event's organizers said the event would be bigger than ever, and it was. The festival was extended by an entire block, spanning from 3rd Street to 7th Street on Capital Mall.
The festival kicked off with a parade at 11 a.m. featuring marching groups, live music, and floats made by different groups from the community. The festival itself featured hundreds of businesses and non-profits lining the Capitol Mall to cater to the 15,000 people in attendance. There were also two stages featuring live entertainment and a dance tent hosted by local DJs.
Along with the several sponsors of the event, the Sacramento Kings also joined in on the pride via social media. The local team changed their purple and white logo to a rainbow one on both their Twitter and Facebook accounts, as well as posted a short video to YouTube. Sacramento's soccer team, Republic FC, also participated in the day's festivities by riding on the City of Sacramento's float during the parade.
Greg Cotta filed this report.