This is an archived article and the information in the article may be outdated. Please look at the time stamp on the story to see when it was last updated.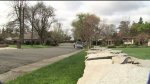 SACRAMENTO-
The Sacramento City Council approved a cash-for-grass program Tuesday night, calling it the River Friendly Landscaping Program.
The city says it will dip into its utilities budget to reimburse residents up to a total of $100,000 for tearing up their lawn and installing a water-friendly landscape. However, how much each home owner will receive is still unclear.
The public utilities department reports that since it has asked people to cut back on water usage by 20 percent, the city has saved nearly a million gallons of water.
They also report that calls to their department regarding excessive water usage have gone from 61 in a five week period at the beginning of 2013, to more than 1,600 in the same time this year.
Phase two of water restrictions in the city will require outdoor irrigation to only occur twice a week through daylight saving time.