This is an archived article and the information in the article may be outdated. Please look at the time stamp on the story to see when it was last updated.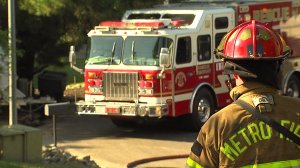 SACRAMENTO –
Firefighters were able to extinguish a duplex fire near Wurth Court and Wright Street on Sunday afternoon.
Around 2 p.m., Sacramento Metro Fire was dispatched, though crews were able to see smoke from their station.
En route to the fire, crews received a report that there were children trapped inside the home. After they arrived at the scene, firefighters fought the blaze and searched for children. They completed the search, and everyone living in the duplex was accounted for outside the house.
Crews were able to stop the fire from spreading to the other half of the duplex, saving about $100,000 in damages. No one was hurt as a result of the fire. The cause of the fire is not known and is being investigated.