This is an archived article and the information in the article may be outdated. Please look at the time stamp on the story to see when it was last updated.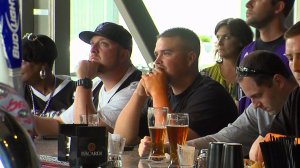 SACRAMENTO-
The NBA owners decision not to approve a relocation of the Sacramento Kings to Seattle is not enough for some Kings fans.
"If the current ownership retains the Kings, I will still be a Kings fan but will I spend money for season tickets and buy Kings products? No," said Brandon Davison, who has been a fan since the Kings moved to Sacramento.
Tom Bullock, who moved away from the area when the Kings were riding high, said he is now disenchanted with the team's owners.
"When I moved away, the Kings looked like they were being run well. I come back to this disaster that's happening, so not a lot of trust there," said Bullock.
They were reacting to the possibility that the Maloof family will decide not to sell their majority share of the team after the NBA nixed a deal for a Seattle group to purchase the team.
The Maloof family has a checkered history with the city.  On several occasions the family backed new arena plans that they insisted upon only to back out at the last-minute.  After proclaiming their loyalties to the city, they then sought to sell to a Seattle group without seeking local buyers.
Although the NBA cannot force a sale to a Sacramento Investor Group, NBA commissioner said talks will be held in the next few days to push for a sale to a local group.