This is an archived article and the information in the article may be outdated. Please look at the time stamp on the story to see when it was last updated.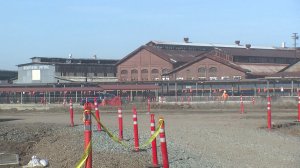 SACRAMENTO—
The old Railyards may be entering a new era of development soon, with a sale in the works.
According to a Tuesday release from California Strategies, LLC, the owner of the Railyards – IA Sacramento Holdings, LLC – has reached an agreement to sell a big portion of the area to developer Larry Kelley.
Kelley's development firm is noted for their mixed-use and housing development experience, a key factor in the agreement.
"Larry and his team have the vision and expertise to transform the Railyards into something Sacramento deserves," Mayor Kevin Johnson said in a statement.
Currently, Kelly's firm is redeveloping McClellan Park – what used to be McClellan Air Force Base.
City officials have noted that, in spite of arena plans shifting to a downtown focus, development of the Railyards would continue.
Lonnie Wong will have more on this story at 5:30. Make sure to watch FOX40 News.