This is an archived article and the information in the article may be outdated. Please look at the time stamp on the story to see when it was last updated.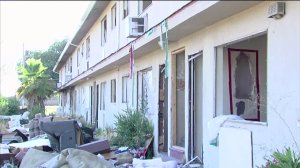 SACRAMENTO-
Vice-Mayor Jay Schenirer, Sacramento Police, and the City Attorney will speak this morning about the Justice for Neighbors program that's bringing change to area blight and crime.
In a statement Vice-Mayor Schenirer told Fox40:
"We can't support the revitalization of a neighborhood when there are properties such as this one that are dangerous. This demolition represents the city's determination to use every tool possible and be proactive in protecting its citizens. Credit to the Justice for Neighbors program and the police dept for their work."
The press conference will be held in front of an abandoned apartment complex on Martin Luther King Junior Blvd. in South Sacramento, neighbors say the building has become a refuge for transients and drug users.
Collin Poseley contributed to this report.