This is an archived article and the information in the article may be outdated. Please look at the time stamp on the story to see when it was last updated.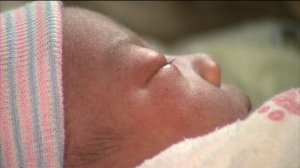 SACRAMENTO-
There is always a push to have the first baby of the new year but Sindey Le and Andy Dao the couple had more than their share of surprises and firsts so far in 2014.
"We were expecting her to be due after the fourth of January, but I had a contraction early," Le said.
Le and Dao went to Sutter Memorial Hospital at 7 a.m. Tuesday and were told the baby would arrive by 7 p.m.
"But she was stubborn. She wanted to be the New Years baby," Le said.
At 12:01 a.m., Milan Le Dao graced the world with her presence.
"I was pushing to get her out because it was painful. It was either this push or not at all," Le said.
Baby Milan was not only the first Sacramento baby born in 2014, she is also Sidney and Andy's first child.
Milan will be the last baby born at Sutter's current maternity ward.
The hospital predicts they will move to its new facility in midtown by late fall or early winter.
Sutter Memorial started as a maternity hospital in 1937.