This is an archived article and the information in the article may be outdated. Please look at the time stamp on the story to see when it was last updated.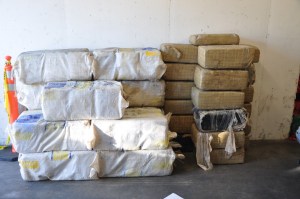 SANTA CRUZ –
Officials arrested four men and seized around 1,200 pounds of marijuana from a boat off of Shark Tooth Beach around 9:40 Saturday morning.
A California State lifeguard was patrolling the North Coast of Santa Cruz when he spotted men acting suspiciously along Shark Tooth Beach. The lifeguard also
spotted a Panga type boat beached in the water line.
The lifeguard called for officers while the men fled the area.
Officers and deputies from the Santa Cruz County Sheriff's Office, Cal Fire Law Enforcement, UC Santa Cruz Police, California Highway Patrol and the Capitola Police K9 Unit all converged and detained four men, seizing the 35-foot boat and dozens of bundles of marijuana along the beach.
According to the Santa Cruz County Anti-Crime Team, police seized 175 bundles of marijuana, weighing about 1,200 pounds and having an estimated value of $2.1 million.
The four men arrested were identified as Silviano Dalos, 30, from San Luiz, Ariz.; Jose Luis Martinez-Ruiz, 34, from Los Angeles; Alex Cerna, 24, from Los Angeles; and Jose Martin Garcia, 30, from Los Angeles. All four were taken to Santa Cruz County Jail and booked for transportation of marijuana.
Ruben Dominguez filed this report.