This is an archived article and the information in the article may be outdated. Please look at the time stamp on the story to see when it was last updated.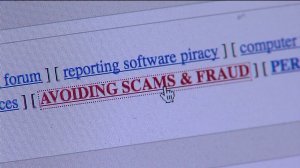 SACRAMENTO – Sharon Osgood and her boyfriend are big 49ers fans and longtime season ticketholders. When the Niners secured a trip to the super Bowl the couple tried securing tickets through Craigslist. They found a Ravens season ticket holder who couldn't go to the game.
"I spent four to four and a half days on the phone with this guy," said Osgood, "Over 200 text messages. Everything this guy was saying sounded legit."
They wired almost $6,000 to the seller, but when the envelope came on Monday there were no tickets just a note saying, "ENJOY THE GAME! GO RAVENS! LOL"
"I was physically ill," said Osgood.
Osgood's story isn't uncommon and according to the Better Business Bureau this is the primetime for scammers. "Whenever there's a big game happening whether it's baseball, football, basketball scammers really capitalize on the super-fans, people really excited to go to the big game," explained Cailin Peterson, BBB spokesperson.
The best ways to avoid getting scammed are; go through a verified seller, the team's official website, or a trusted third party seller.
If it's a classified website Peterson advises, "Never wire money. You have no idea where the money went to if you don't receive the tickets there's no recourse usually."
Osgood was lucky. Her scam story spread to the San Jose Mercury News and eventually the CEO of Ticketmaster who gave them four super bowl tickets.
"I cried for about an hour and a half," Osgood said about getting the tickets.
Hearing that they had a fifth person going the red and gold stepped up and got them the last ticket. "The 49ers came through and we are on our way to go see the 49ers bring home the Lombardi trophy," she said.
However, even if they didn't get the tickets they would have gone to New Orleans anyway. "We were planning on going whether we had to sit in the RV and watch the game or be in a bar on Bourbon Street," said Osgood, "We wanted to be there to support our team, because that's how much we love them."
Peterson added, "These people really lucked out with the tickets that were given to them, but not everyone's story will end that way. (Normally) there's a big chance you're out of the thousands of dollars you wired."