This is an archived article and the information in the article may be outdated. Please look at the time stamp on the story to see when it was last updated.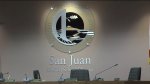 CARMICHAEL-
The San Juan Unified School District is still waiting for documents from the FBI to help them piece together a data breach that led to district records turning up in a southern California home.
A federal criminal complaint shows two men were arrested last week for creating fraudulent companies and collecting fraudulent payments through American Express.
While executing two search warrants, the FBI found academic reports with personal information that the thieves may have used as part of their scam.
District leaders say at this point, they know very little about what happened.
"It really depends on what an academic report is, because that could be anything from a report card, to a student's file to a special education student's IEP plan," San Juan Unified spokesperson Trent Allen said. "So depending on what that is would dictate what the format is how it's stored.  So that's certainly something we're interested in working with the FBI to get access to those documents."
According to Allen, the district was already in the process of reviewing its data storage plan before learning of this FBI probe.