This is an archived article and the information in the article may be outdated. Please look at the time stamp on the story to see when it was last updated.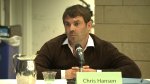 SEATTLE-
Chris Hansen, the business magnate who had planned to buy the Sacramento Kings and move them to Seattle, has conceded and posted a statement to Sonics Arena.
Hansen's statement comes after the NBA Board of Governors rejected the team's relocation, all but squashing his plan to buy the team.
"While we are obviously extremely disappointed with today's relocation vote and truly believe we put forth both a significantly better offer and Arena plan, we do thank the league and the owners for their time and consideration and look forward to hearing back on our agreement to join the Maloofs as Limited Partners in the Kings.
"But most of all I would like to thank everyone in Seattle who has been a part of our effort and supported our cause. Words simply can't express how much your support has meant to me personally and to our City. I truly believe we did everything possible to put our best foot forward in this process and you all should be proud and hold your heads high today.
"Our day will come…and when it does it will just be that much sweeter for the struggle.
"I love you Seattle!"
The Kings' current owners, the Maloof family, have entered negotiations with an ownership group from Sacramento, led by TIBCO CEO Vivek Ranadive.