This is an archived article and the information in the article may be outdated. Please look at the time stamp on the story to see when it was last updated.
NICOLAUS – The California Highway Patrol has confirmed there was one fatality after a Big Rig struck a RV in Nicolaus, CA in Sutter County on Saturday.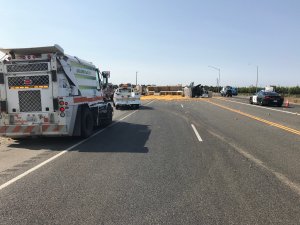 Just after 2:15 p.m., a tractor-trailer transporting oranges traveling South on State Route 99 near Powerline Road, struck an RV, killing one person in the crash.
SB 99 at Power Line Road in Nicolaus remains blocked due to crash and cleanup of spilled peaches. Vehicles being detoured off at Power Line. pic.twitter.com/HGv1B8UwuE

— Caltrans District 3 (@CaltransDist3) August 12, 2018
Hwy 99 at Power Line Road in Nicolaus all lanes have reopened due to a major collision .

— Caltrans District 3 (@CaltransDist3) August 12, 2018