This is an archived article and the information in the article may be outdated. Please look at the time stamp on the story to see when it was last updated.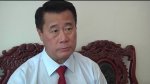 SACRAMENTO-
Senator Leland Yee was arrested Wednesday morning by FBI agents. Despite recent investigations and arrests at the California State Capitol, the most recent being the allegations swirling around Senator Ron Calderon, Senator Yee had created a reputation of trying to clean-up politics.
In fact, the Society of Professional Journalists just awarded Senator Yee their Public Official Award for his efforts to make government more transparent.
In a press release about the award last week, Yee said, "I am honored to receive this award from the Society of Professional Journalists … I'm proud to share the stage with so many who have done so much to keep our government open and accountable."
Senate Bill 1001 raised lobbying fees to improve tracking lobbyist and campaign finance spending, Senate Bill 1003 made it easier to bring action against governmental bodies, Senate Bill 1696 ensured greater access to government contracts, audits and reviews of public agencies, just to name a few bills Yee was recognized in helping get passed.
As a member of the San Francisco Board of Supervisors, Yee helped author the city's Sunshine Ordinance to create a more open government.
Yee has been a State Senator since 2007, representing San Francisco and San Mateo counties.
Read more: California State Senator's Office Raided by FBI