This is an archived article and the information in the article may be outdated. Please look at the time stamp on the story to see when it was last updated.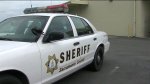 SACRAMENTO COUNTY-
The Sacramento County Sheriff's Department will participate in a national prescription drug take-back day, organized by the Drug Enforcement Agency.
There will be four collection sites: the Sheriff's Station at 5510 Garfield Avenue in Sacramento, the Sheriff's Station at 7000 65th Street in Sacramento, the Rancho Cordova Police Department at 2897 Kilgore Road in Rancho Cordova and Antelope High School at 7801 Titan Drive in Antelope.
The drop-offs will be Saturday, Oct. 26.
This is the seventh day of its kind organized by the DEA. The service is free and anonymous, according to the Sheriff's Department, and no questions asked.
The Sheriff's Department says the drop-offs will ensure that the drugs are safely discarded, and not fall into the wrong hands.