This is an archived article and the information in the article may be outdated. Please look at the time stamp on the story to see when it was last updated.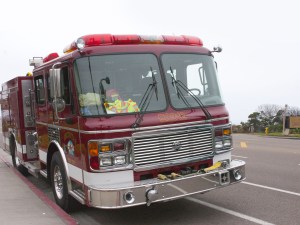 NORTH HIGHLANDS –
A little after 8 a.m this morning, Metro Firefighters were dispatched to an apartment fire at 4517 Palm Avenue in North Highlands.
Before Metro Firefighters had even arrived, a mother and her child were asleep in the burning apartment.  Their smoke detector alerted them of the fire that was located underneath the interior stairwell of their apartment.  They were able to exit without injury, says Metro Fire, but are displaced from their home.
Fortunately, the crews were able to save the apartment complex and extinguish the fire.  There was approximately $20,000 worth of damage to the complex.  The cause of the fire is currently under investigation.  Metro Fire would like to remind everyone that smoke detectors save lives and that it is important to have them properly installed.