This is an archived article and the information in the article may be outdated. Please look at the time stamp on the story to see when it was last updated.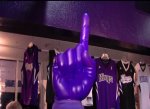 NEW YORK-
The NBA confirmed Monday that the the league's relocation committee has voted against moving the Sacramento Kings to Seattle.
The vote was unanimous, the NBA tweeted.
The committee's recommendation will now head to the league board of governors for a more formal vote. It's said that the board will more than likely fall in line with the committee's recommendation.
The board is set to meet and make a vote May 13., according to an NBA statement.