This is an archived article and the information in the article may be outdated. Please look at the time stamp on the story to see when it was last updated.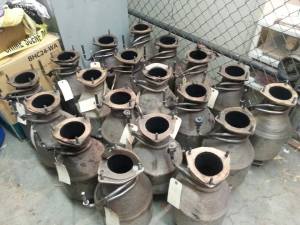 STOCKTON-
Following up on a speeding Mercedes in Stockton, officers found 37 stolen catalytic converters.
Monday night, Stockton Police chased the car at a high rate of speed, before losing track of it. Later, the Mercedes was found parked at a home.
Once officers confirmed the people inside were connected to the car, they searched the home.
Inside they found a loaded gun and dozens of catalytic converters. They arrested four adults and one teenager for weapon and stolen property charges.
This slideshow requires JavaScript.