This is an archived article and the information in the article may be outdated. Please look at the time stamp on the story to see when it was last updated.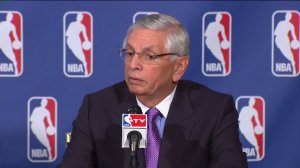 NEW YORK CITY-
Whether the Sacramento Kings will stay or go may not be decided by the NBA's Board of Governors meetings in mid-April. The league's commissioner told reporters the situation is "complex."
David Stern told the crowd of reporters it had been a "full day of extraordinary presentations". He said both sides, Seattle and Sacramento, made strong cases, but there are a lot of questions remaining for the committee. Issues like construction timelines, making sure the capital is there, and other obstacles in each city.
Stern also said the committee needs to consider the short-term arrangements; whether the team stays in Sacramento or moves to Seattle, they will be playing in older facilities until the promised new arenas are finished.
Asked about whether expansion is an option, with the hope that both cities someday would have a team, Stern didn't seem optimistic. "Expansion is not a prudent way to run a league," he said, referencing league-wide deals for broadcast rights and other things that could be complicated with expansion.
Although Stern said the issue of the Kings may not be voted on by the April 18-19 Board of Governors meetings, he did say the decision would be within a few days of it. He did say the committee will come together again to talk about the issue before those meetings.