This is an archived article and the information in the article may be outdated. Please look at the time stamp on the story to see when it was last updated.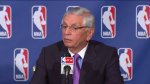 NEW YORK-
Following an NBA finance and relocation meeting that lasted more than four hours Wednesday, League Commissioner David Stern told reporters that they are "not even close" to a decision on whether or not the Kings will stay in Sacramento.
Stern said the decision is at least two to three weeks away.
The commissioner had previously hinted that the decision wouldn't take place at the Board of Governors meeting a few weeks ago when representatives from Sacramento and Seattle traveled to New York to make their cases to the committee.
The NBA also said officially Tuesday that there would definitely not be a decision made during the Board of Governors meeting.
Board Chairman and Spurs owner Pete Holt told reporters that the idea of an expansion team is "not off the table," despite Stern saying in the past that it wasn't an option.