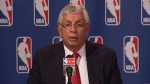 LONDON-
NBA Commissioner David Stern took some time during a news conference Thursday in London to address rumors of the Sacramento Kings' sale and relocation to Seattle.
When Stern was asked about Chris Hansen, the man reportedly interested in buying the Kings and moving them to Seattle, he acknowledged that he had been in contact with the NBA.
"Chris Hansen, we understand to be a prospective builder of a building there who has acquired land has been in to have talks with us.  So we've been ‑‑ we are more or less in a series of communications, but right now we don't know anything in terms of actionable plans."
Stern told the media that he does not believe anything has been finalized with the Maloofs and Hansen.
A reporter asked, "Could you give us an update on the Sacramento‑Seattle situation, and what are the odds that the Sonics will be playing next year?"
"I was hoping you would give me the update.  I would say the following:  The one thing we do know is that no purchase and sale agreement has been submitted to us, and we assume if one were going to be executed, the next thing they would do is submit it to us.  There's been lots of speculation," Stern said.
Sacramento Mayor Kevin Johnson said last week that he plans to address the NBA Board of Governors with his plan to keep the team in town, which he hopes to do by March 1.
Stern continued, "The mayor of Sacramento has asked me, well, if it comes to pass because we've been reading it in the newspapers, and he knows that anything he reads in the newspapers is likely to be accurate, could I come in and address the Board of Governors or the relocation committee, and I said, always."
Wrapping up his response, Stern had some kind words about Sacramento.
"The communities have supported us, and many that haven't, but Sacramento has been particularly supportive, are always welcome to present.  The mayor has been in before.  So that's it, other than the speculation of what's going on."