This is an archived article and the information in the article may be outdated. Please look at the time stamp on the story to see when it was last updated.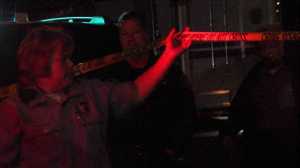 STOCKTON-
A bizarre shooting spree has broken records in Stockton, making this the most violent year in that city's history.
Police had been looking for a silver mini-van after witnesses saw it speeding away from a home on Regent Street where a 64-year-old woman was shot to death. Fifteen minutes later, they found it.
It was parked outside the Oak Creek Assisted Center at the O'Connor Woods retirement complex. In the back of that mini-van was the body of another woman, a 57-year-old, who'd been shot to death.
"In my 16 years career as a police officer, this is something I've never encountered," said Officer Joe Silva, with the Stockton Police department. "Something bizarre and heinous."
Inside the apartment where the mini-van was parked, police found two more people. A 45-year-old man and an 88-year-old woman. Both of them were suffering from gunshot wounds. The man died on scene, the woman was rushed to the hospital where she later died as well.
Stockton Police say they've recovered the gun they believe was used in the shooting. They found it along with the body of the dead man.
Police believe now that 45-year-old man was the shooter, eventually turning the gun on himself,
With this bizarre senior citizen shooting spree, the City of Stockton has seen its most violent year ever – Stockton police tonight are investigating their 56th, 57th, 58th, and 59th homicides.
"I want people to remember that behind every one of those numbers is a person, and a grieving family," Silva said.
Stockton's previous homicide record was 56.