This is an archived article and the information in the article may be outdated. Please look at the time stamp on the story to see when it was last updated.
STOCKTON-
More than 20 Stockton Police officers are on paid administrative leave as the investigation into a deadly chase following a bank robbery continues.
One hostage and two suspects were killed in the tense police chase and shootout Wednesday afternoon. The two dead suspects were known gang members with prior arrests. The third suspect, Jaime Ramos, is in jail.
Stockton Police Chief Eric Jones said 14 police vehicles were damaged by gunfire during the shootout, along with several civilian cars. The suspects had at least four guns, and ammunition.
Chief Jones said they got a call about the robbery at the Bank of the West along Thornton Road near Hammer Lane at 2:11 p.m. Wednesday, and according to records, the first responding officers arrived at 2:12 p.m.
Officers saw the active robbery scene inside the bank, and Chief Jones said the officers saw the suspects initially try to leave with a hostage, then go back inside. Hostage negotiators were called to the scene.
The three suspects then grabbed three women, two bank employees and a customer, and used them as a shield during the tense standoff as they left the bank.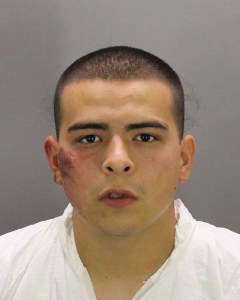 Moments after the suspects took off, one of the hostages was either pushed or jumped out of the SUV.
Then, around 3:15 p.m. a second hostage was either pushed or jumped out of the suspect's SUV. The suspect's eventually stopped at Otto and Thornton.
During the hour-long chase, which looped along highways in the Stockton area, the suspects fired on officers. Mostly from an AK-47-type weapon being shot by a suspect sitting in the backseat of the SUV.
There was a shootout when the SUV stopped, and Chief Jones said officers returned fire until the suspects stopped shooting. When they approached the SUV, they found the suspects and hostage who died.
The shootout occurred in a community area, and Chief Jones said he was thankful more people were not hurt.
"All of us at the police department are deeply saddened. The fact that they put our community at harm is deplorable," Chief Jones said at a Thursday's press conference.
Officers sorted through the scene of the shootout overnight, and collected four weapons. Chief Jones also said the suspects had ammunition taped to their bodies.
It is not known if the hostage who died was killed by the suspects or by gunfire during the shootout.
Chief Jones says more than 20 officers fired their weapon during the chase and shootout, and will be placed on paid administrative leave. He said they are also looking into the possibility the three suspects are connected to other robberies in Stockton.
FOX40 will have more developments on this case on FOX40 News at 5 and 6.
3 Hostages taken by 3 Suspects after Bank Robbery
 READ: Surviving Suspect in Deadly Stockton Robbery and Chase Identified
WATCH: Relatives of Slain Hostage Blames Police Tactics