This is an archived article and the information in the article may be outdated. Please look at the time stamp on the story to see when it was last updated.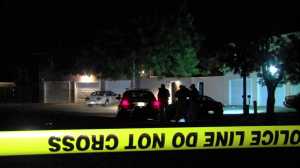 STOCKTON-
Violent crime continues to be an issue in Stockton; the city had its 50th homicide Wednesday night. To make matters worse, the crime happened just hours after a community meeting was held at The Haggin Museum to address the problem of violent crime.
The homicide happened around 11:30pm Wednesday on the 9300 block of Dalewood St. A 26 year old man died at the hospital from gunshot wounds, according to Stockton Police. No motive has been released for the shooting yet.
While Stockton will most likely break last year's record of 58 homicides, the city is coming up with solutions to curb the violence.
Stockton Police have their Community Response Teams out in force, which have taken a large number of guns off the street.
Also starting soon is a program called "Operation: Ceasefire". It's a comprehensive program that will target gang members to try and lead them away from a life of crime, or bring full consequences for any crime committed.
The program has been successful in cities like Boston, Chicago, and Cincinnati, and there is a strong hope it can do the same in Stockton.