This is an archived article and the information in the article may be outdated. Please look at the time stamp on the story to see when it was last updated.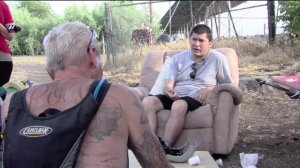 STOCKTON-
Stockton Mayor Anthony Silva wants to help Stockton's homeless survive on the streets, and to prove it, he's spending the night in a cardboard box.
"I thought I'd come out here for a night and spend a night with the homeless to see what it is that they go through," said Mayor Silva.
Mayor Silva built the humble abode himself, using duct tape to secure a cardboard roof over his head. The temporary housing also featured blankets, pillows, and a bottle of hand sanitizer. The box was nestled in between a trash can and a chain link fence where South Harrison Street and Church Street meet under the I-5 overpass in Stockton.
"It's about giving them a  light at the end of the tunnel that there is hope, and that's why I'm out here to give them that hope," said Silva.
Silva told FOX40 between 14,000 and 16,000 people live homeless in Stockton. He is proposing the creation of a new community resource center for Stockton's homeless population. He also met with multiple families living in tents under the freeway to ask if they would be interested in forming a tent city.
"We all need a chance," said Tim Barfield.
Barfield told FOX40 he worked 60 hours per week at an Asphalt company, up until 6 months ago.
"Boss took a wrong turn and went belly up so. From having that to nothing. Now I'm out here," said Barfield.
Barfield is currently living in a makeshift tent near I-5 in Stockton, with his pregnant girlfriend. They are hoping to be off the streets within the next six months, before their baby s born.
"Down to nothing. Now some of the people I used to know tell me I can't come to their house. They're afraid I'm gonna steal something," said Barfield.
Mayor Silva sat behind a coffee table, in an outdoor living room Barfield and his girlfriend created in the dirt, listening to his story.
"I've hit the bottom of the barrel and I didn't know how I was gonna climb out. And that's kind of how Stockton is right now with being bankrupt and not having enough jobs and a big homeless population," said Silva.