This is an archived article and the information in the article may be outdated. Please look at the time stamp on the story to see when it was last updated.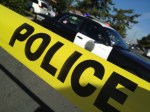 STOCKTON-
Stockton Police credit social media for helping them arrest a man suspected of killing someone Thursday.
After a piece of surveillance video was circulated online Thursday morning, police say people called to say they had seen the suspect near Grant Boulevard Martin Luther King Jr. Boulevard.
The man is suspected of stabbing another man to death Wednesday along South California Street
When officers arrived to arrest the man, a dog reportedly charged at an officer. Police opened fire on the dog and killed it.