This is an archived article and the information in the article may be outdated. Please look at the time stamp on the story to see when it was last updated.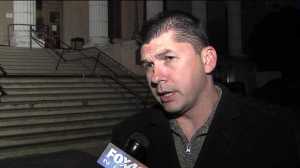 STOCKTON –
Stockton will soon have a new mayor. Residents elected Anthony Silva for the job on Tuesday over incumbent mayor Ann Johnston. While Silva is celebrating now he plans to get to work very soon.
"The unemployment, the crime, and bankruptcy I have my work cut out for me," he said.
Less than 24 hours after being elected as mayor, Silva wants to start dealing with Stockton's issues. "Before I take office, I would like to review the audit and am waiting for the audit from the State Controller's Office. I want to meet with the city manager and go over the budget and see where we are financially."
In a bold move, Silva has promised not to accept a salary until the budget is balanced and more police are brought back. "Right at this moment I wouldn't say Stockton is the safest city," he said, "Every year we're going to work on making it better and better."
Most living in Stockton would say crime is the city's number one issue. The police department didn't want to comment about politics, but spokesperson Joe Silva said they have a plan in place to fight crime and are going to continue with that.
It is a plan partially put in place by current mayor Johnston, which includes the creation of the Community Response Team, partnering with CHP for a three month crack down on crime, and a soon-to-be enacted Felon Task Force.
Silva hopes to build on those plans.
"We want to bring back businesses to Stockton and jobs back to Stockton, but it all starts with public safety," he said, "I need to do whatever it takes to put more police on the streets."
Silva will officially take office during the first city council meeting in January.