This is an archived article and the information in the article may be outdated. Please look at the time stamp on the story to see when it was last updated.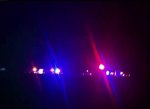 LODI-
A thief ran away from a hot car, not because it was stolen but because it was on fire.
Friday morning, Lodi Police were called to check out a car on fire along Turner Road. A man was seen running away from the Hyundai, but officers did not catch up with him.
The car had been reported stolen Thursday, and when officers contacted the owner, he didn't seem surprised.
He told police his car had engine problems, and that probably led to the fire.