This is an archived article and the information in the article may be outdated. Please look at the time stamp on the story to see when it was last updated.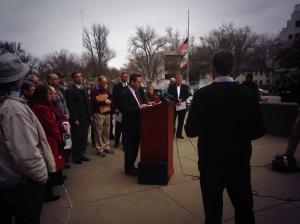 SACRAMENTO—
Lawyers with the group Sacramento Taxpayers Opposed to Pork (STOP) officially announced Wednesday that they have filed a lawsuit against the Sacramento city clerk and city council.
The move comes in response to how their petition to force a vote on public funds for the new downtown arena was rejected by the city clerk last week.
READ: Sacramento City Clerk Rejects STOP Petition Effort
Clerk Shirley Concolino cited numerous legal flaws in her decision to disqualify the petition, among them: pieces of missing information on the petitions and the fact that there were 9 different versions of the petition.
However, STOP's lawyer said Wednesday that, in the past, the California Supreme Court has ruled that minor errors in printing of petitions cannot impact a petition.
The4000, a group who supports the downtown arena plan, issued a response to STOP's lawsuit Wednesday morning. The group brings up questions about how the petition effort and Wednesday's legal action is funded.
READ: The4000 Releases an Open Letter to STOP following Lawsuit
The4000 is asking STOP to disclose a list of who is financing their efforts.
Marin Austin and Cecilio Padilla contributed to this report.
Related stories:
City Clerk Rejects Petition to Put Arena Subsidy to a Public Vote
STOP Passes Signature Threshold; Petitions, Signatures Move to City Clerk
Arena Vote Group Accused of Inconsistent Petitions