This is an archived article and the information in the article may be outdated. Please look at the time stamp on the story to see when it was last updated.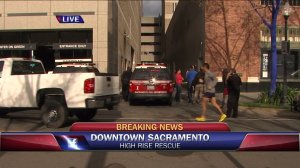 SACRAMENTO-
A street near the State Capitol was blocked off Monday morning, as crews responded to a man who on the outside of a tall building.
Firefighters and police officers were called to 12th near K Street for reports of a person dangling outside the building.
Crews were able to attach a harness to the man, who was at least nine stories above the ground.
Once rescued, crews confirmed the man is dead.
Traffic was kept away from the area; 12th Street was blocked between J and L Streets.
No word at this time why the person was outside the building, and whether he jumped or fell.