This is an archived article and the information in the article may be outdated. Please look at the time stamp on the story to see when it was last updated.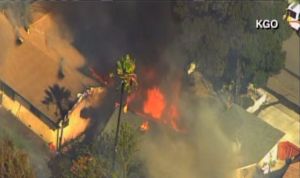 FAIRFIELD-
The Fairfield Fire Department says a 7-alarm has spread to homes near I-80 and Marigold Drive.
At least five structures began to burn shortly after 4 p.m.
The fire also led to the closure of two lanes along I-80 because of fire and smoke on the shoulder, according to the CHP. A fire truck reportedly became stuck in heavy traffic.
Nearby residences were asked to evacuate, and vehicles in a nearby AT&T parking lot were also reportedly burned, Highway Patrol said.
Crews have also reportedly ordered a strike team from Cal Fire to assist in battling the flames.
High winds helped the flames spread.
Stay with FOX40 and FOX40.com for the latest as new information becomes available.