This is an archived article and the information in the article may be outdated. Please look at the time stamp on the story to see when it was last updated.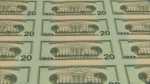 WASHINGTON-
While those with college degrees generally earn more, a new study from the National Bureau of Economic Research shows that more than a quarter million graduates were working minimum wage jobs in 2012.
According to the study, the entirety of which you can read here, eight percent of those working a minimum wage job last year held at least a bachelor's degree. That's about 284,000 people.
Experts attribute this statistic to the number of those holding a degree steadily rising over the last few years.
Meanwhile, President Obama has been pushing for an increase of the national minimum wage to $9.