This is an archived article and the information in the article may be outdated. Please look at the time stamp on the story to see when it was last updated.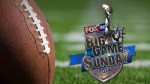 EAST RUTHERFORD, New Jersey (CNN)-
Super Bowl XLVIII officials are planning ahead to keep guests warm, days after snow blanketed the Met Life Stadium.
A storm hit the East Coast earlier this week, leaving the sports complex in East Rutherford, New Jersey, buried. As crews removed the snow, they treated it as a dress rehearsal for what could happen: a big snowstorm Super Bowl weekend.
Officials are also planning for how to keep the expected crowd of 80,000 people warm on February 2. Every Super Bowl attendee will get a pack, containing things like lip balm, ear muffs, mittens and hand warmers.
There will also be seven warming stations for fans around Met Life Stadium.
Even with all the preparations, forecasters and NFL officials are all watching the weather patterns. If bad weather is likely, there is a time table; they need 24 hours to change the game time, and 36 hours' notice to change the game day.
By Douglas Clark