This is an archived article and the information in the article may be outdated. Please look at the time stamp on the story to see when it was last updated.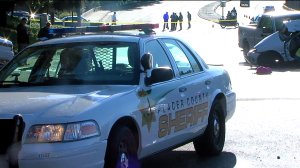 ANTELOPE-
Officers are searching the Antelope area for a suspect, after a 2-hour chase and crash that left at two people dead. Multiple schools in the Dry Creek School District are on lock down as officers look for a suspect.
UPDATE: All Suspects are in Custody
It all started around 5 a.m. Wednesday when Auburn Police started chasing burglary suspects. The suspects ditched the car, and stole another.
They then took that stolen white truck westbound on I-80. They were being chased by multiple agencies, as they exited at Antelope Road.
They were driving around 90-100 mph and running red lights. They ran a red light, and crashed into a car. Both people inside the car were killed.
At least one suspect took off running into the Antelope neighborhood.
Officers from Sacramento County Sheriff's Office and CHP blocked off multiple roads in that area as they continue their search and investigation into the crash.