This is an archived article and the information in the article may be outdated. Please look at the time stamp on the story to see when it was last updated.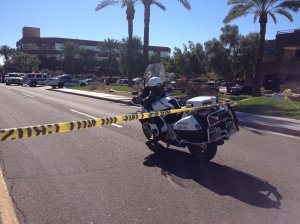 PHOENIX, Arizona-
Phoenix police were searching Wednesday for a 72-year-old man suspected in the shooting of three people, one of them fatally, in an office building.
Steven Singer, 48, was pronounced dead at a hospital, said Phoenix police public information Officer James Holmes.
The other two victims suffered non-life-threatening injuries, police said.
Police identified the suspect as Arthur George Harmon, who was last seen in a white 2013 Kia with Arizona license plate AVS2052.
The incident was reported at about 10:30 a.m. (12:30 p.m. ET) near the intersection of 16th Street and Glendale, said Sgt. Tommy Thompson, a public information officer with the Phoenix Police Department.
"A man described as a white male, possibly older, went into an office, got into some type of an altercation, and he shot three individuals," Thompson said. "He fled the scene, we believe, before we got there."
Thompson said he did not believe the shootings were random. "We believe that this individual was probably known to the victims," he said. "We believe that this individual came to this location, for whatever purpose, got into an argument, which turned into gunfire."
Attorney Mark Hummels was identified by his law firm, Osborn Maledon, as one of the victims. He was involved in a client mediation when he was shot, the Phoenix firm said.
The building houses several medical-related businesses.
Former astronaut Mark Kelly referred to the shooting during a Senate Judiciary Committee hearing in Washington on gun violence. "There's 50 or so police cars on the scene," he said.
Kelly and his wife, former Rep. Gabrielle Giffords, D-Arizona, this month launched Americans for Responsible Solutions, which seeks to raise money to counter the influence of the gun lobby.
Two years ago, Giffords was shot in the head by a gunman in a parking lot in Tucson.
CNN's Deanna Hackney in Atlanta and Casey Wian in Phoenix contributed to this report.
The-CNN-Wire/Atlanta/+1-404-827-WIRE(9473)
™ & ©2013 Cable News Network, Inc., a Time Warner Company. All rights reserved.