This is an archived article and the information in the article may be outdated. Please look at the time stamp on the story to see when it was last updated.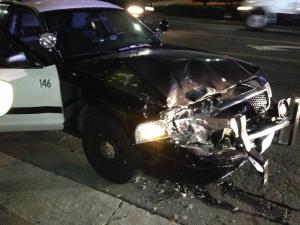 VALLEJO—
Police in Vallejo say that a man leading them on a car chase resorted to ramming a patrol car, sending an officer to the hospital.
According to a release from Vallejo Police, the incident happened late Saturday night. Officers tried to pull over a Chevrolet El Camino in East Vallejo around 11 p.m., only to see the car turn off its lights and speed away.
The driver, later identified as 35-year-old San Pablo resident Taekwondo Henry Clay Maxwell, managed to lose the pursuing officers for a time. However, another patrol car soon spotted the El Camino.
Maxwell continued to lead officers on a chase until he lost control of his car near Springs Road and Avian Drive. His car spun around so fast that, police say, the El Camino ended up facing the patrol car.
It was at this time that police say Maxwell hit the gas pedal and aimed for the patrol car, ramming it head-on.
After the collision, Maxwell tried putting his car in reverse but stalled – as he had accidentally put it in neutral. Maxwell then bolted from his car, only to be taken into custody a short time later.
Two officers and Maxwell were injured in the crash. One of the officers had to be taken to the hospital to be treated, but has since been released.
Maxwell now faces assault with a deadly weapon and felony evading arrest charges.