This is an archived article and the information in the article may be outdated. Please look at the time stamp on the story to see when it was last updated.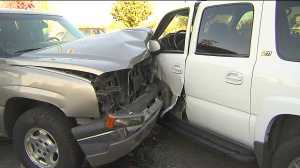 SACRAMENTO-
Sacramento County Sheriff's deputies say a suspected drunk driver smashed into a car, injuring both occupants, and drove down the street to hit another car before trying to flee Wednesday afternoon.
The driver hit a car with two women inside around 2:30 p.m., police say. She kept going down the street until she crashed into a parked car in front of the Bank of America branch on Stockton Boulevard and Florin Road.
The woman was driving a stolen truck.
Both women inside the first car were taken to the hospital.
Police caught up with the driver and took her into custody, but she somehow escaped. Officers were able to find and recapture her and loaded her into an ambulance.
The woman was reportedly combative with police the entire time. Deputies had to tie her legs down when they put her in the back of a patrol car.