This is an archived article and the information in the article may be outdated. Please look at the time stamp on the story to see when it was last updated.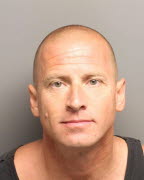 SACRAMENTO COUNTY-
Several law enforcement agencies converged on Elverta Road and Black Eagle Drive in Antelope Wednesday afternoon to try to catch a suspected rental car thief.
Officers and deputies set up a perimeter around the neighborhood after investigators spotted 43-year-old Gary Fowler, who ran.
Fowler is known to hang out in that area, near Saugstad Park.
"We believe that he may be armed with a hand gun, and he has made comments to his parole agent that he wasn't going to go back to prison, and that he may actually commit suicide by cop," said Roseville Police Sergeant Darin DeFreece Wednesday night.
Officers are particularly concerned because of Fowler's history with violence.
Six cars were discovered missing from a Roseville rental car business on North Sunrise Avenue. The key drop box had been broken into and officers soon found five of the cars in a nearby parking lots. Police arrested a woman on suspicion of vehicle theft and having methamphetamine.
Surveillance video led detectives to identify Fowler as the second suspect, Roseville Police say. Officers believe Fowler has a handgun because an empty holster with the cars.
Fowler was spotted by police driving the sixth stolen car Tuesday night near Loretto Way and Quail Circle, investigators say.
After a quick chase, the driver, believed by police to be Fowler, dumped the car and took off on foot. Officers and deputies with Roseville Police, California Highway Patrol and the Placer County Sheriff's Department swarmed the area, but were unable to find Fowler.
Fowler is described to be 5 feet 9 inches tall and 160 pounds. He has blond hair, but his head is shaved right now, green eyes and tattoos on his legs. He is considered armed.
If you see Fowler, you're asked to call police.
Dennis Shanahan contributed to this report.