This is an archived article and the information in the article may be outdated. Please look at the time stamp on the story to see when it was last updated.
CITRUS HEIGHTS-
Sacramento County Sheriff's deputies arrested a suspected white supremacist Monday after he was found to have more than a dozen guns and 20,000 rounds of ammunition.
David Laux, 49, was booked into Sacramento County Jail on weapons charges, and is held on $110,000 bail.
Investigators served a search warrant at Laux's Citrus Heights home. Deputies say Laux was arrested without incident after he was seen driving away from his home.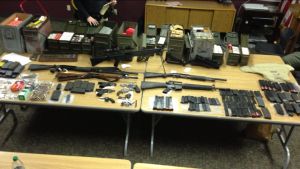 Laux is believed to be affiliated with an extremist organization known to have a white supremacist ideology. According to the Sheriff's Department, detectives think Laux had plans to sell the guns to other members of the group for a profit.
Of the 13 guns found, deputies say several were assault rifles.