This is an archived article and the information in the article may be outdated. Please look at the time stamp on the story to see when it was last updated.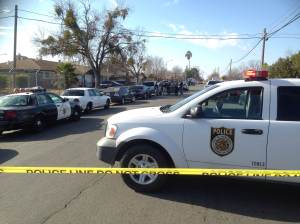 SACRAMENTO-
Swat officers surrounded a North Sacramento home Tuesday, as a wanted man and a young child were inside.
Around 10 a.m., Sacramento Police officers went looking for the parolee, but he refused to come out of the home near Norwood and Fairbanks Avenues.
The man was inside with a young child, so officers were taking extra precautions.
Around 1 p.m., the man and young child came outside to waiting officers. The child was unharmed, and the man – later identified as 27-year-old Xa Lor – surrendered to police.
The man is wanted out of Yolo County. It is not clear at this time what he is wanted for.