This is an archived article and the information in the article may be outdated. Please look at the time stamp on the story to see when it was last updated.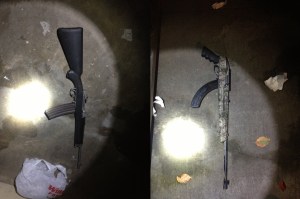 STOCKTON—
Police say they arrested a teenager walking around Marsh Street and 1st Avenue with a loaded rifle Sunday night.
According to police logs, officers showed up to the area around 9:20 p.m. after getting a report about the teen that looked to be carrying a rifle.
At the scene, officers say they saw the suspect run through an apartment complex. Officers were able to catch the man – 19-year-old Arthur Miller – in a nearby stairwell.
Officers found two loaded rifles, each with extended magazines, on the man.
Miller now faces weapons and resisting arrest charges, according to booking logs with the San Joaquin County Jail.