This is an archived article and the information in the article may be outdated. Please look at the time stamp on the story to see when it was last updated.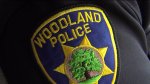 WOODLAND-
A Woodland high school was on lockdown after reports of a man on campus with a weapon.
Thursday morning, as Woodland Police were responding to reports of a man with a gun, they learned school officials stopped the man.
Pioneer High School was placed on lock down for a short time after the initial reports, until the man was arrested.
The man was a 17-year-old who was not a student at the school, and he had a butterfly knife on him.
He was arrested for having a weapon on a school campus.