This is an archived article and the information in the article may be outdated. Please look at the time stamp on the story to see when it was last updated.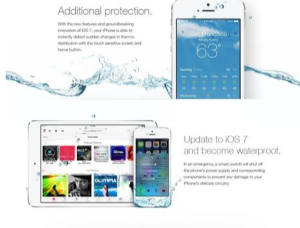 SACRAMENTO-
An advertisement is making the rounds online, claiming the simple upgrade to iOS7 on your iPhone or iPad will make the device waterproof. Thing is – the ad is a fake.
The ad looks convincing enough, adopting the look of Apple's iOS7 promotions.
British news outlet Sky News reported Tuesday that the ad appears to have fooled many, with some tweeting their profanity-laden frustrations about their drowned iDevice.
Apple has yet to comment on the fake ad, which began circulating shortly after the launch of the new iPhone 5s and 5c.