This is an archived article and the information in the article may be outdated. Please look at the time stamp on the story to see when it was last updated.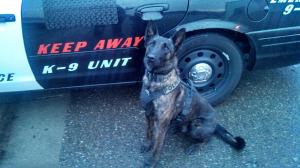 STOCKTON—
A Stockton Police K9 named Thor took down a suspect not only armed with a gun, but also a hammer, officials say.
The incident happened around 1:37 p.m. Sunday at a home near E. Hazelton Avenue and B Street, according to a release from the Stockton Police Department.
Police say that a 38-year-old woman called police to report that a man – 34-year-old Juan Hernandez – was trying to get into her home. She had called police the day before to report that Hernandez allegedly threatened her with a gun and then attacked her.
A Stockton Police officer and his K9 partner Thor soon confronted Hernandez on the side of the house. The officer ordered Hernandez to drop the hammer he was holding and he did, but then took off running into the backyard of the home, police say.
The officer and Thor chased after Hernandez and reportedly saw him reach into his pocket.
Thor was able to bite and pull on Hernandez' arm enough to make the gun fly out of his hand, police say. Hernandez was then arrested.
As officers found later, officers found that the .22 caliber handgun was loaded.
Hernandez was first taken to the hospital to be treated for bite wounds before he was booked for burglary, resisting arrest and weapons charges.