This is an archived article and the information in the article may be outdated. Please look at the time stamp on the story to see when it was last updated.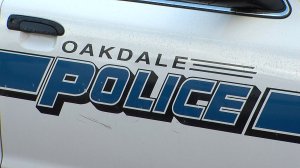 OAKDALE—
A total of three people were arrested on counterfeiting charges after their ruse failed to fool workers at an Oakdale Cold Stone Creamery.
The arrests happened on Friday just before 8 p.m. According to a release from the Oakdale Police Department, officers showed up at the Cold Stone along E. F Street after a customer reportedly tried to use a fake credit card.
Officers were able to catch up to two suspects in the Motel 6 parking lot just down the street – 36-year-old Michael Woody and 40-year-old Donald Cool. Woody was on parole while Cool was on post-release community supervision, officers soon found. Both were staying at the motel, so officers did a search of their room.
Inside, officers soon found that two others – 40-year-old Michelle Yeager and Meusette Herrera – were staying with Woody and Cool. Further, stolen financial documents, altered credit cards, drugs and other drug paraphernalia were found inside the room.
Officers arrested Woody, Cool and Yeager for numerous charges, including possession of stolen property, parole violations and drug charges. The investigation into their alleged credit card fraud is ongoing.